General Liability Insurance For Contractors
Because construction and professional contractor work is more risky than other kinds of jobs, there are a lot of insurance requirements to keep in mind. General liability insurance is one of the most important: if you get sued, the right general liability coverage could be the difference between continuing your business and going bankrupt.
General Liability Is Required By Many Of Your Customers So You Can Work
Builders and general contractors will need to see your Certificate of Liability Insurance before hiring you. After all, they don't want to be on the receiving end of a lawsuit if an accident happens. Basically, you have to have proof of your general liability insurance coverage before you can work and get paid!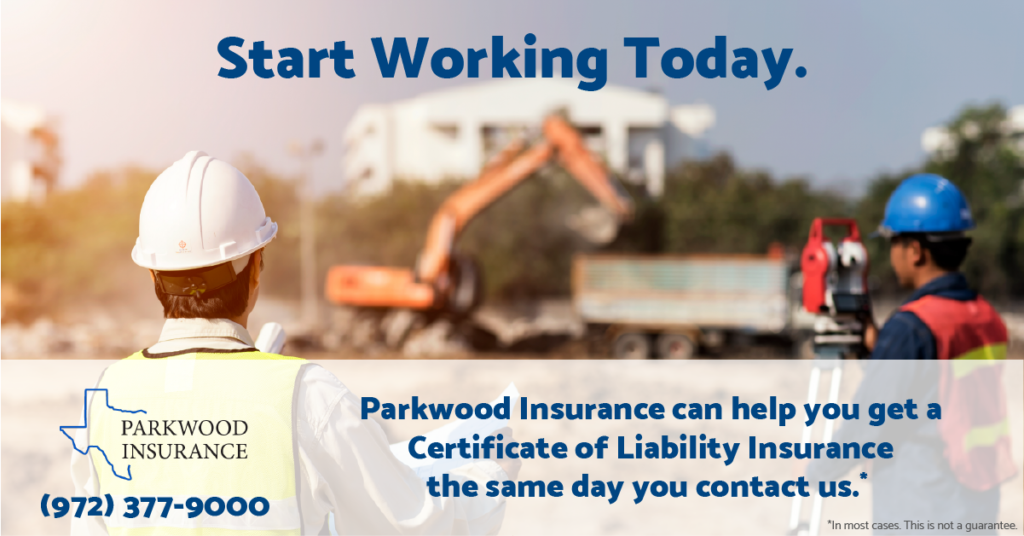 Parkwood Insurance specializes in custom insurance packages for contractors all over the DFW Metroplex and the entire state of Texas. That means we understand the unique needs of contracting jobs and we can tailor insurance coverage options for your specific contracting operations.
Having the right insurance coverage is just as important as having the right tools for the job. We are experts at providing you with the right general liability insurance coverage and endorsements to satisfy any requirements, so you can get to work.
Our professional contracting clients can expect proof of insurance (certificates of insurance) same day for new policies and within a couple of hours for clients with current policies.  That means you can get to work – fast!
You Need General Liability Insurance To Protect Your Business
Let's say you're on a job site installing hardwood floors. During the install, you accidentally start a fire that damages the house. Your general liability insurance is designed to cover this, including the costs of your legal defense and repairs to the house.
Similarly, the homeowner or a city inspector could get hurt while walking through your job site. Your general liability insurance is designed to pay for their medical bills and the costs of your legal defense. Without general liability insurance, an accident like this could bankrupt you.
Slip-and-fall accidents happen every day. In fact, just in the United States, there are over one million emergency room visits each year due to slip, trip, and fall accidents. You don't want to gamble your livelihood on trusting that it won't happen to you.
What Does General Liability Insurance Cover?
Put simply, general liability insurance protects you from lawsuits. If you are sued by a third party (that is, someone who doesn't work for you), your general liability insurance can cover your attorneys fees, settlements, and other legal costs, up to your policy limit.
As an independent contractor or a subcontractor, general liability insurance is probably the most important part of protecting your business. There are three scenarios that general liability insurance covers:
Physical injuries that happen on your job site or are caused by your completed work. For example, if you install a ceiling fan and it falls on the homeowner's head, they might sue you for their medical bills. (Note that if you have employees, general liability insurance doesn't cover their work-related injuries. That's what workers compensation coverage is for.)
Property damage to someone else's property while you're working. If you hit a parked car with your excavator while working, the car's owner could sue you.
Personal and advertising injury coverage is for when you get sued for libel, slander, invasion of privacy, copyright infringement, and misappropriation of advertising ideas. These claims are less common in the contracting and construction world, but general liability coverage could be crucial if someone thinks you made a false statement or misused someone's name or advertising content.
Parkwood Insurance Is Here to Help
We know that dealing with commercial insurance is a hassle and can be confusing. This is where you need experts like us to help simplify the process for you. We'll get you the coverage you need quickly and accurately, so you can worry about what really matters: getting to work and providing for your family.
Whether you're a new independent contractor or a seasoned veteran, trust Parkwood to help you get the insurance protection you need.