Parkwood Insurance is a full-service independent insurance agency. We provide auto, home, life and business insurance through a broad range of highly reputable national insurance companies for our clients in Frisco, Collin County, and the entire state of Texas.
Unlike a "captive" or direct insurance company, which only offers their own proprietary products, our agency is 100% independent of any one company. Many insurance consumers don't fully understand just how important that really is.
When it comes to something as important as insurance, it's imperative that you work with an agency who has an in-depth knowledge of multiple insurance products, companies, and guidelines — not just one.
At the end of the day, what separates one agent from another is their ability to proactively service their policy holders, and their knowledge of the insurance industry, products, and different situations that may present themselves to their clients. We have decades of industry experience and the expertise to get you the best insurance coverage for you and your family!
Chris Wycoff, Owner
Chris Wycoff founded Parkwood Insurance in 1998. As CEO, his number one goal is to be your trusted insurance advisor in order to protect your financial future with the insurance products we provide.
Before starting his agency, Chris moved to Frisco in 1997 while he and his wife, Amy, were finishing their degrees at the University of North Texas. This was long before Frisco started growing rapidly. Chris, his family, and his agency have all enjoyed being a part of Frisco's unbelievable growth in the past few decades.
Chris has been married to his wife, Amy, since 1995 and they have 2 children that attend the University of Arkansas. In his spare time, Chris enjoys the outdoors, biking, hiking, the beach, visiting his children in Fayetteville, Arkansas, concerts, racing dirt bikes, and playing music.
Audrey Marlow, Director of Operations
Audrey joined Parkwood Insurance in 2005 and helped to build the foundation of our agency. As our Director of Operations, she provides organizational structure and brings a wealth of knowledge to our team. She takes pride in making sure each team member has all the tools they need to successfully serve our customers.
When she's not at the office you can find her spending time with family. Her happy place is charter fishing in the Florida Keys! She enjoys watching a baseball game, enjoying a NASCAR race and watching Hallmark movies! In her quiet time she enjoys reading, quilting and genealogy research.
Amy Wycoff, Accounting Director
Amy graduated from the University of North Texas with a Bachelor's degree in insurance and has worked in the insurance industry for over 21 years. She started at Travelers Insurance, first as a commercial claims adjuster and then as an executive liability underwriter and a workers compensation adjuster. Amy then joined her husband at Parkwood Insurance, where she currently manages the accounting department.
Amy and Chris have been married since 1995. They have two college-aged children, Austin and Allie, who both attend the University of Arkansas in Fayetteville (Woo Pig!). In her time off, Amy enjoys traveling, visiting her kids, and spending time outdoors with friends and family.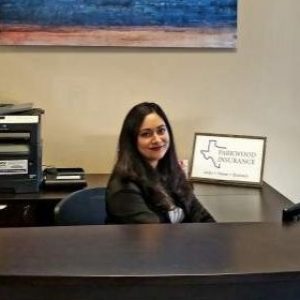 Nancy Lopez, Sales Agent • Soccer Mom • Dance-Off Queen
When Nancy is not blue in the face from cheering on her son at his soccer games, you can find her cooking up a storm or starting a dance off with whoever dares to cross her path!
Nancy is one of a kind and we are truly thankful to have her in our office. Nancy's eight years of insurance industry experience is clear from the superior level of service that she provides to every client she works with.
Ana Schafer, Customer Service Agent • Animal Lover • Beach Life Enthusiast
Ana is one of the most spirited people in our office, and her genuine enthusiasm is directly reflected in taking care of everyone who visits our office. Ana has been in the insurance industry for over five years and believes that the best is yet to come!
One thing is for sure, Ana is a genuine animal lover and a beach bum advocate. When she is not at work, you'll find her listening to music at the beach or spending some quality time with her family.
Just send us your name and phone number, and we'll get back to you within 24 hours.